Fast Food Fun
Objective: Use the Internet and spreadsheets to analyze the nutritional value of a typical fast food meal.
Read this information from TeensHealth to learn what makes a meal healthy. Pay close attention to the part of the article that explains how many calories we should get from fat in our meal. We will be using this information to create charts that will help us evaluate how healthy our meal is.
Now use this handy nutrition calculator to determine how many calories you need each day. Once you have determined how many you should consume in a day, be sure to write it down in your Tech Journal so you don't forget it.
Open up Microsoft Excel and create a table with headings that looks like this: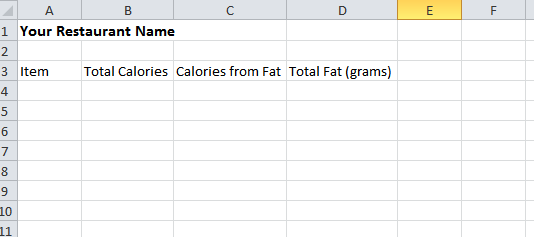 Save your spreadsheet in your Documents folder. Call it YOUR NAME FFF.
Keep this table open so you can record data into it as you create your meal in Step 3.
Decide which fast food restaurant you would like to visit. Click on that restaurant's web site below. Once there, create a meal with a sandwich, salad or other main dish, a side dish (french fries, etc), a drink, and a dessert. For each item on your menu, record the total calories, the calories from fat, and the total grams of fat in the table you created in Step 2.
Your meal must contain at least five (5) items!
Now that you have the basic information for your fast food meal, we are going to use the Math functions in Excel to calculate two more important pieces of data about your meal. Use the tabs below to complete each step
1. Add Headers
2. Caculate Non-Fat Calories
3. Calculate Percentage
4. Col. Totals
4. Percent Total
Charts help us quickly see and process information visually. This is important as you try to convince people of the nutritional value of your meal.
Your final product must include at least two charts. Use the tabs below to learn how to create a bar chart and a pie chart. See several other sample charts you might also want to create.
Bar Chart
Pie Chart
Other Chart Samples
Creating a Bar Chart Comparing Fat and Non-Fat Calories
Bar charts are useful when comparing the same thing in many different things. In this chart, you will use a bar chart to compare the fat and non-fat calories of each item on your menu. You can then quickly spot the choices that aren't healthy and point them out to your audience.

Click to watch the video explaining how to create this chart.
When you have completed this chart it should be similar to the following: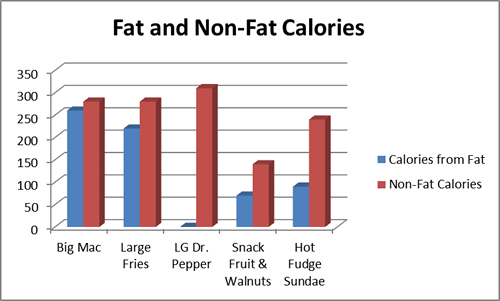 Creating a Pie Chart to Compare Total Calories from Fat and Non-Fat
Pie charts are useful when you want to show how the different parts of a whole compare to each other. In this chart we will compare the calories from fat and the calories that are non-fat and see how they compare to total calories. We know that in a healthy meal the calories from fat should be less that 35%, so this chart will very quickly reveal the nutritiousness of this meal.

Click to watch the video explaining how to create this chart.
When you have completed this chart it should be similar to the following: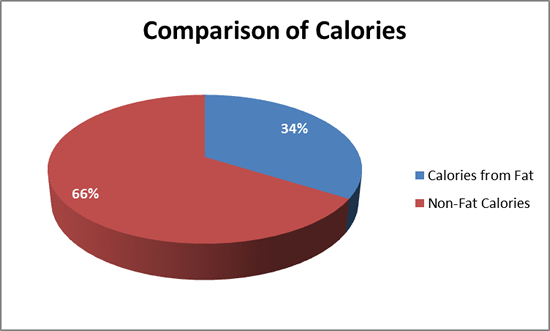 Other Chart Examples
Here are a few other sample charts you can create. Use the techniques learned to create the bar and pie charts in the other tabs of this section as you create these!
Chart 3
This chart uses a doughnut chart to show how many calories each item has compared to the calories in the whole meal. You can quickly see that most of the calories come from the Big Mac and the fries! We also finally see that while the Dr. Pepper may not have much fat, it sure does pack some calories!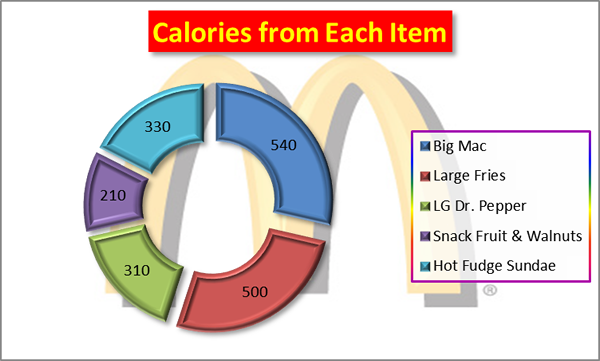 Chart 4
This chart uses the bar chart, which is very similar to the column chart to show the total grams of fat in each item. I used pictures of each item to make a stacked pictorial chart to add interest. This chart continues to point out that the Big Mac and the fries are the least healthy selections in this meal.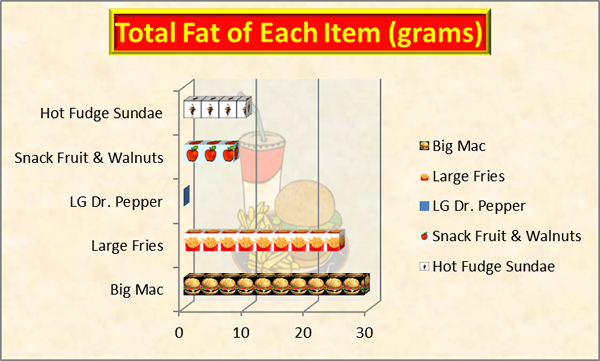 When your project is complete, it will include the following elements:
The name of your restaurant.
A nicely formatted table with each menu item and the following information about each:

Your table must include a row that totals each column as well.

At least one logo or graphic from your restaurant.
At least two charts that help you justify the nutritious value of your meal.
A three or four sentence paragraph that explains why your meal is healthy or not healthy. You must use data from your spreadsheet to justify your explanation!
YOUR NAME! Be sure to take credit for your work!!
Click here to see a sample project created using the Jack in the Box menu.
Fast Food Fun
To earn a NI- you must complete the following:
To earn a NI you must complete the following:
To earn a S you must complete the following:
To earn an E you must complete the following:

Target Objective 1
Manipulate a spreadsheet: enter and format data and use formulas and functions.

Level 1 Indicator
Entered most data correctly, some incorrect formatting, attempted to use formulas and functions

Level 2 Indicator
Entered all data correctly, was able to format data, attempted to use formulas and functions

Level 3 Indicator
Entered all data correctly, completed required formatting, used formulas and functions correctly

Level 4 Indicator
Entered all data correctly, completed required formatting, used formulas and functions correctly, used advanced formatting techniques to design spreadsheet

Target Objective 2
Create bar charts to analyze data

.

Level 1 Indicator
Created minimal charts lacking correct chart elements; incorrect data displayed

Level 2 Indicator
Created minimal charts lacking correct chart elements; correct data displayed

Level 3 Indicator
Created required charts swith correct elements including title, names of axes, legend, and data labels; correct data displayed

Level 4 Indicator
Created required charts swith correct elements including title, names of axes, legend, and data labels; correct data displayed; used advanced charting techniques to design charts beyond requirements

Target Objective 3
Create pie charts to analyze data

.

Level 1 Indicator
Created minimal charts lacking correct chart elements; incorrect data displayed

Level 2 Indicator
Created minimal charts lacking correct chart elements; correct data displayed

Level 3 Indicator
Created required charts swith correct elements including title, legend, and data labels; correct data displayed

Level 4 Indicator
Created required charts with correct elements including title, legend, and data labels; correct data displayed; used advanced charting techniques to design charts beyond requirements

Target Objective 4
Summarize findings using a word processor and incorporating data and charts from spreadsheet

.

Level 1 Indicator
Able to copy chart from spreadsheet; brief summary with few details; no attempt to draw conclusions about data; did not meet requirements for length; did not used correct format

Level 2 Indicator
Able to copy chart from spreadsheet; brief summary with few details; some attempt to draw conclusions about data; made some attempt to meet length and format requirements

Level 3 Indicator
Able to copy chart from spreadsheet; summary included required details; was able to meet length and format requirements

Level 4 Indicator
Able to copy chart from spreadsheet; detailed summary with additional information beyond required elements; met or exceeded length and format requirements